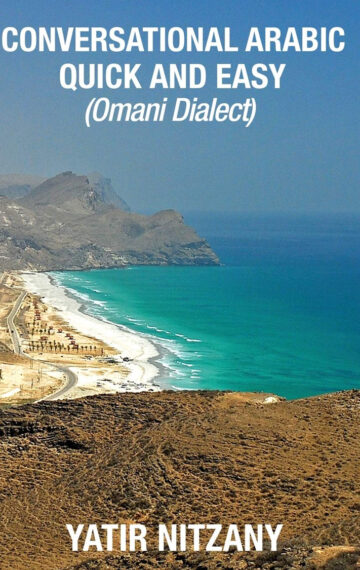 Available in:

Paperback, Kindle, Kobo, Ibooks, Nook
The Omani Dialect
The current population of the Sultanate of Oman is estimated to be 4,720,483. The country is on the southeastern coast of the Arabian Peninsula. Oman is at the mouth of the Persian Gulf and shares land borders with the United Arab Emirates to the northwest, Saudi Arabia to the west, and Yemen to the southwest. It shares marine borders with Iran and Pakistan. The coast is formed by the Arabian Sea on the southeast and the Gulf of Oman on the northeast.
The official language is Arabic, but prior to Islam, central Oman lay outside of the core area of spoken Arabic. The Mehri language used to be widespread in the areas around Ṣalālah in Ẓafār and westward into Yemen, and until the 18th or 19th century, it was spoken further north.
Besides Arabic, the main languages spoken in Oman are English, Baluchi (Southern Baluchi), Urdu, and various Indian languages. English is taught at school from an early age, is widely spoken in the business community, and almost all signs and writings appear in both Arabic and English at tourist sites. Baluchi is the mother tongue of the Baloch people from Balochistan in western Pakistan, eastern Iran, and southern Afghanistan, and is widely spoken in Oman. A significant number of residents also speak Urdu due to Pakistani migration in the late 1980s and 1990s and additionally, due to historical relations with Zanzibar, Swahili is also widely spoken.
Endangered indigenous languages in Oman include Kumzari, Bathari, Harsusi, Hobyot, Jibbali, and Mehri. At the most basic level, there are two kinds of dialects, those of settlers and those of Bedouin who reached eastern and south-eastern Arabia up to the 18th century, and they share some features. Omani dialects preserve much vocabulary that has been lost in other Arabic dialects.
Purchase now in ebook and print format