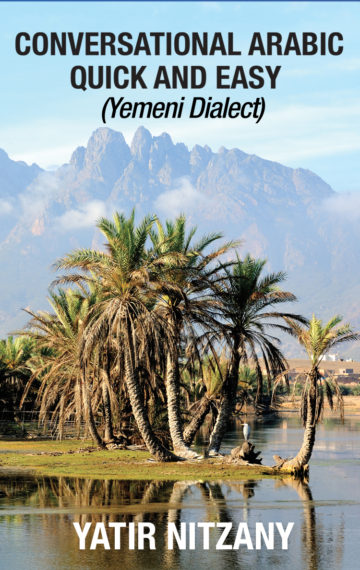 Available in:

Paperback, Kindle, Kobo, Ibooks, Nook
THIS BOOK DOESN'T CONTAIN ANY ARABIC LETTERS! ALL ARABIC WORDS IN THIS BOOK WERE WRITTEN IN ENGLISH-TRANSLITERATION!
The Yemeni Arabic Dialect
The official language of Yemen, for the estimated twenty-seven million people living there, is Modern Standard Arabic, but Yemeni Arabic, which is a cluster of varieties spoken in the country and in southwestern Saudi Arabia, Somalia, and Djibouti, is unofficially used for daily communications. There are an estimated fifteen million people that use Yemeni Arabic as their primary language.
The dialect cluster is roughly divided into three main groups, each with its own distinctive vocabulary and phonology. The most important ones of these are San'ani, Ta'izzi-Adeni (also called South Yemeni Arabic or Djibouti Arabic), and Hadhrami. The dialects correspond to the three major geographical zones of the country. That is, San'ani corresponds to the regions of the capital San'a; Ta'izzi-Adeni to the regions of Aden, the former capital of South Yemen; and Hadhrami to the regions in the inner parts of the country. The Tihami dialect is also considered important and is similar to the majority of Yemeni dialects.
The dialects tend to have many features from Classical Arabic (used in Umayyad and Abbasid literary texts, 7th to 9th century AD) not found across most of the Arabic-speaking world and the cluster is, therefore, considered to be a conservative one.
Two smaller dialects, Gulf Arabic and Egyptian Arabic, have arrived in Yemen with modern migrations. There are also non-Arabic languages indigenous to the region, which have developed from the Semitic family
Spoken in:Yemen
https://the-yemeni-dialect-arabic.blogspot.com/2019/05/the-official-language-of-yemen-for.html
Purchase now in ebook and print format
Reviews
Not many book available on Amazon to learn Yemeni
Arabic happy that I found this.  
–Gloria
Read this once or twice and you are on your way.
Also great cheat sheet to take along. Extremely useful info 
–NYCMTG