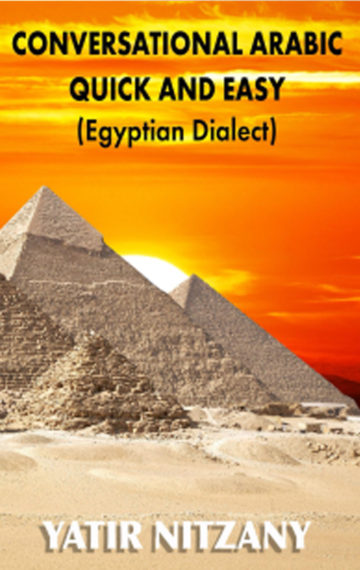 Although the official language of Egypt is Modern Standard Arabic, its people speak Egyptian Arabic. Written in the Arabic alphabet, the language is spoken by over 77 million people throughout the world, though mostly concentrated in Egypt. Unlike Modern Standard Arabic, most people speak Egyptian Arabic at social occasions, though it is also used in some common examples like newspapers and street signs. Egyptian Arabic originated in the areas around Alexandria and Cairo, which have always led the country economically. Historically, the ancient Muslim expeditions to Egypt resulted in an increase in the Arabic language, but shifted back to Egyptian when Muslim troops, speaking an Egyptian dialect, inhabited the area.
This is one of the several, in a series of instructional language guides, the Nitzany Method's revolutionary approach is the only one in the world that uses its unique language technology to actually enable you to speak and understand native speakers in the shortest amount of time possible. No more depending on volumes of books of fundamental, beginner, intermediate, and advanced levels, all with hundreds of pages in order to learn a language. With Conversational Arabic Quick and Easy, all you need are forty-six pages.
Learn Arabic today, not tomorrow, and get started now!
Spoken in: Egypt
https://the-egyptian-dialect-arabic.blogspot.com/2019/06/the-egyptian-arabic-dialect.html
Purchase now in eBook and Print Format
Reviews
"Egyptian Arabic has always been challenging for me, mostly due to the lack of sources on the market to learn this beautiful dialect. Egyptian is hard but the teaching system in this book is slowly helping me overcome it. I still can't believe in the past I wasted my time self teaching myself Classical Arabic when I could have learned this instead, since now i am realizing nobody speaks the official Arabic language except for news, politics, etc."– Yuris

"Excellent lessons and a wealth of accurate information to learn the Egyptian Arabic. This book taught me, among many other things, that J in Egyptian Arabic is pronounced as G, I had no idea. I am very happy with this wonderful book."– Silvia